Obituary for Baylee Rae Kilton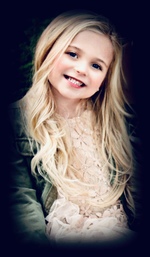 Baylee Rae Kilton, age 6, also known as "B" or "Baylee Boo," died unexpectedly on April 7, 2019. Baylee was born on May 14, 2012 in Machias, ME to parents Adam and Kellie, née Ramsdell Kilton and adored sister, Kisten.

An exceptionally beautiful little girl with, in the words of her great grandfather, "blueberry eyes". Baylee spent her six years on earth determined to engage with the world as much as possible. Baylee tried every experience offered to her, and her parents made sure that she had as many choices as was possible. She tumbled in gymnastics, danced with abandon and rode horses, sleds, and four-wheelers every chance she got, and she brought her unique focus and exuberance to it all.

Baylee idolized her sister, Kisten. She was her biggest fan at cheerleading competitions and an enthusiastic follower of Kisten's interests and accomplishments. Baylee was also an eager co-pilot on the boat with her Pa, and she often baked and cooked with both her grandmothers. Her sense of fun was infectious, she loved to cuddle and tease her parents and sister, and occasionally play little tricks on those she was closest to, but she especially loved snuggling and giggling with her mom and dad.

Baylee also loved animals. She fed the birds and played with her dogs, but Cinder, her beloved, blue-eyed cat and Ozzie, her black bunny, were her special babies.

Having been so well loved all her life, Baylee found it easy to love others. She was an integral part of her solidly compatible first grade class and shared their easy camaraderie and affection.

Baylee's interests often belied her very girly appearance. Despite her beautiful outfits, and sparkly, spangled love of all that glitters, she was a Maine girl, fishing in her pond or at camp, riding the lawnmower with her daddy, and kayaking or swimming whenever she had the chance. Baylee was not afraid of getting dirty or working hard. And she did all this, while rocking her ever-present giant bow like a crown and decked out in all the pink and yellow fabulousness that she could muster. If your day was dark, you would hope to see her, for her smile would spread light to every face in a room.

Baylee had a big life for one so young, rich in love, play, learning, and joy. All of which contributed to the extraordinary delight she brought to all of those around her.

Baylee will be remembered by her parents, Adam and Kellie Kilton, her sister Kisten "Sissy" Kilton of Roque Bluffs; grandparents, Randy and Brenda Ramsdell of East Machias and James and Vicki Kilton of Whiting; great grandmother, Barbara (Noddin) Robinson of East Machias; aunts, Shana "Tee" Ramsdell of East Machias and Christy Alley, and her husband Nate of Jonesport; Uncle Seth Kilton and his companion, Katie McDonald of Northfield; cousins Kole McDonald, Hailey Wood, Tyler Wood, and Anderson Alley; all of her pets, Titan, Bullee, Kingston, Ozzie, Cinder; her entire first grade class, and all the teachers and fellow students who loved her.

Anyone who wishes to make a donation to Adam and Kellie may do so at Machias Savings Bank, c/o Jennifer Tuell, P.O. Box 318, Machias, ME 04654.

Following a private memorial service for the family, a celebration of Baylee's life will be held at 2:00 pm, Saturday, April 20th at the Lee Pellon Center, 90 Main Street, Machias. Arrangements by Mays Funeral Home, Calais & Eastport.